To be part of the feast please Click here
Appetizer
What was your favorite cartoon when you were a child?
Bullwinkle and Rocky.
Soup
Pretend you are about to get a new pet. Which animal would you pick, and what would you name it?
Molly the goat
Salad
On a scale of 1-10 with 10 being highest, how much do you enjoy getting all dressed up for a special occasion?
This is hard one for me. I haven't done or go any where for years to place like this but I'll say above a 5
Main Course
What kind of music do you listen to while you drive?
Rock and Roll
Dessert
When was the last time you bought a clock? And in which room did you put it?
I've never bought a clock it seems when we need one. We get one for free or a present. I'll look at grandfather and grandmother clock and admire them.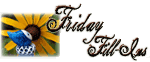 1. Two of my favorite ingredients in a drink are Tequillia and lime juice, can you figure out what I like to drink
!
2. Being married over twenty years
often amazes me.
3. You can keep doing that forever, the dog is quite the gal
4. Holly smoke Alice, mix it all together and voila! You have made jumping beans that can whistle "Yankee Doodle Dandy
5. If I had a yard with a garden, I would love to growmore and more flowers berries, herbs and vegetables
6. Life is best au naturel.
77. And as for the weekend, tonight I'm looking forward toa quite eveningtomorrow my plans include finishing the strawberry bed if there is time I might dig a spot under Bart or the future craft/office to plant sunflowers and Sunday, I want to look for moral with Murphy and if I don't have the strawberries in, plant them
Please click Click Here